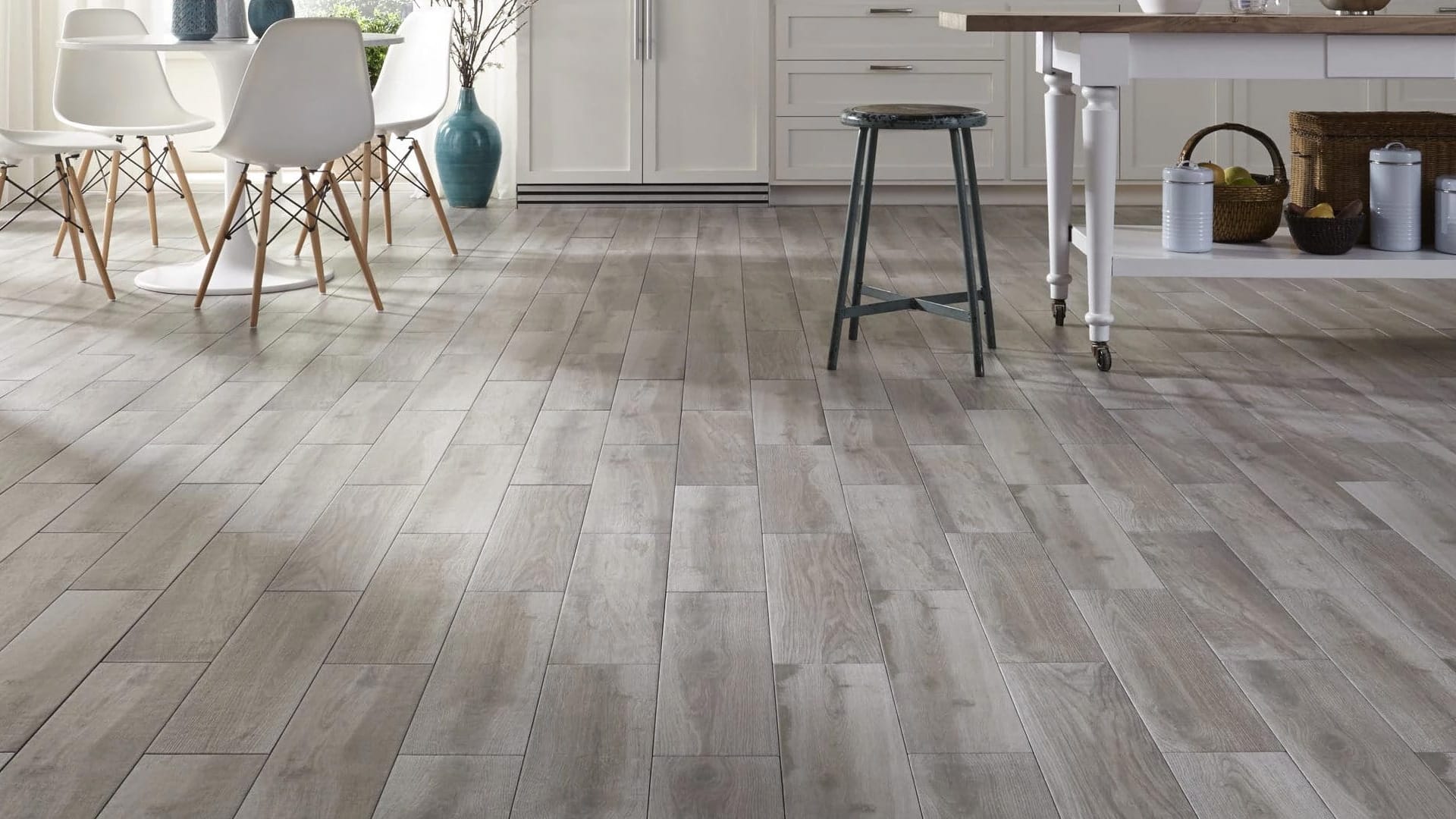 Flooring
Flooring material makes a huge difference in the look and functionality of your home. Flooring is often taken for granted, but we pay close attention to flooring because it is always in use – you walk on it, place your bags and other items on it. Not only does flooring have to be durable, perhaps more importantly, it has to be comfortable. The best floor for your home is lifestyle dependent. Seniors won't be comfortable standing for long periods of time on hard surfaces such as stone and tile. Hardwood may not be the best option if you have young children or family members prone to spilling food and drinks or pets that don't have the best of manners when eating or drinking from their bowls.
Porcelain
If tile is the option for you, we suggest porcelain because it is more durable than ceramic and it's easy to maintain. Porcelain is virtually stain proof if installed properly. Cleaning is as easy as soap, water and a mop. For budget purposes, porcelain runs between $10 to $16 per square foot, including installation.
Ceramic Tile
Ceramic tile is made from clay and like porcelain is better suited to our customers with young children and pets than a hardwood floor. The downside to ceramic is its susceptibility to chipping or breaking.
Travertine
Travertine is another extremely durable option. It's natural. The cost is generally 30% more than porcelain.
Vinyl Tile
If your budget is thin, consider vinyl tile. That averages between $5 and $9 per square foot installed. With vinyl it's easier to replace damaged tiles than ceramic or porcelain. Plus, given the low cost it generally is worthwhile to purchase a few extra tiles from the original installation. That's good advice for any flooring material because no matter how cautious you are, there is a chance that at some point in time, something can drop on the floor that could damage it.
Hardwood Flooring
Hardwood is elegant, dramatic and warm. Many of our customers prefer hardwood because tile and stone feel cool and hard. The downside to hardwood in a kitchen is that excessive water can be damaging. If your icemaker, kitchen faucet or dishwasher leaks when you are not around, it could spell trouble for your hardwood floor. Similar to stone, hardwood is a natural product, and not all wood panels will be identical. Wood grain tile flooring offers many of the benefits of hardwood but won't be damaged by water. If you would like to discuss the flooring options for your new kitchen, please give us a call 346-410-0755 or visit our showroom at 950 FM 1960 Rd. E. Suite C, Houston, TX 77073. We focus on flooring because we know your feet will thank us for many years to come as you enjoy your new kitchen.

When it comes to installing flooring in your kitchen, bath or other areas of your home, there are many factors to consider. The price, durability and type of flooring are just a few, but it's not a bad idea to understand the actual process of installation to insure a successful outcome. To make your flooring experience easier, we have compiled some useful tips so you can achieve the best results.
The Perfect Amount
It is very important to determine the square footage of the room by multiplying its length by its width. When we encounter irregularly shaped rooms, we divide the space into smaller rectangular sections and calculate the square footage of each section and then add them together. To prepare for any mistakes during installation, we advise our clients to purchase an extra 10 percent and even an extra box for future flooring fixes.
Subfloor
In order to have a flat and quiet subfloor, we typically specify screwing a wood subfloor to the underlying joists helps to minimize creaking and then padding low spots with plywood or shims. We generally specify filling dips with a leveling compound for clients with concrete subfloors.
Glue-down installation
Engineered wood, vinyl and linoleum are floor coverings that can be installed using a glue-down process. It is best for wood or concrete flooring, or even existing flooring. To install, sheets, tiles or planks are glued to a clean, flat subfloor using a troweled-on adhesive. However, some glue down flooring is simply peel-and-stick. No vapor barrier is required.
Floating installation
Floating installation can also be used for engineered wood, plastic laminate or linoleum flooring surfaces. A wood or concrete subfloor works best with floating installation as well as using existing flooring for a subfloor. During installation, tongue-and-groove planks or tiles are locked together mechanically, yet some products must also be glued together at the joints. To account for minor flaws in the subfloor and to absorb sound, the flooring material is generally laid over a thin foam or cork pad. For installations over concrete, a thin plastic vapor barrier is required.
Nail or staple-down installation
This type of installation works for solid wood and engineered wood and is best for a wood subfloor. The installation process includes using a standard ¾ inch-thick solid-wood strip and plank flooring that is traditionally nailed to the subfloor, while thinner solid or engineered material is almost exclusively stapled. Fasteners are driven diagonally through the tongue side of the material and into the subfloor, which makes them invisible once the floor is finished. Solid flooring can also be nailed straight through the surface with decorative cut nails or fastened with screws, which are typically countersunk and concealed with wood plugs. A layer of 15-pound felt or rosin paper is often sandwiched between the subfloor and floor to prevent moisture accumulation between the two and lessen sound. Specifying flooring is something we specialize in because we understand that our clients want both beauty, functionality and flawless performance.