ETotalHome - Kitchen & Bath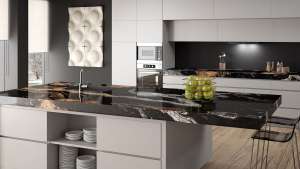 A well-designed kitchen provides adequate space for you, your guests, family members and others to maneuver without running into one another or bumping into things. You should be able to open the refrigerator and dishwasher completely without hitting anything or anybody. One way to ensure adequate maneuverability in a space is to allow for at least 48 inches between countertops or a countertop and the island. The amount of space dedicated to maneuverability is often dictated by how you use your kitchen, for what purposes and how frequently. A well-designed kitchen is an organized kitchen. Avid or frequent cooks typically enjoy having spices, bottles of vinegar and oils and other frequently-used products near the cooktop or in the area where most meal preparation takes place. Cabinets for dishes and glassware are typically best near the dishwasher.
A well-designed kitchen accounts for appliance dimensions, both big and small. A good rule of thumb is to select appliances before cabinetry to help ensure that the dimensions are appropriately configured into the design and avoid the potential of creating obstacles.
Lighting can make or break a kitchen, and there are three types of lights to consider. A well-designed kitchen specifies task lights that shine brightly on surfaces that will be used most often to prepare and cook meals. Ambient lighting provides general illumination, and accent lighting is used to highlight focal points such as keepsakes on open shelves. An effective layered lighting design incorporates different shades, shadows and colors to accentuate the best features of a new kitchen.
A well-designed kitchen provides adequate storage based on the available space and anticipated kitchen use. We recommend that homeowners in Texas inventory their existing kitchen and identify the pots, pans, utensils, glassware, plates and small appliances that are used most frequently, intermittently or rarely. This process helps to prioritize storage options and maximize the functionality of the space.
Specifying cabinetry that leverages the utility of wall space helps maximize storage space in smaller kitchens. Depending on the look and feel our clients in Texas want to achieve, we will often recommend placing cabinets to the ceiling.
Kitchen islands are one of the most requested features of homeowners in Texas. Kitchen islands are often not only a focal point of a new kitchen but serve multiple purposes, from meal preparation and entertaining to a place to complete homework. Islands are only practical if there is sufficient space for them. In selecting a kitchen island, determine the functions you expect your island to perform and the items you plan to store in it. Some kitchen islands can work more efficiently and effectively if you don't put sinks or appliances in them.
If you would like to know how you can maximize the functionality and beauty of your kitchen space, please give us a call at 346-410-0755 or visit our showroom at 950 FM 1960 Rd. E., Houston, TX 77073.
We design bathrooms in Texas ranging in price from several thousand dollars to more than $100,000. We can work with almost any realistic budget to create a dream bath. The following suggestions will help you to maximize the value of your renovation dollars and help assure you get the return that you expect and deserve.
Work with a showroom professional. Okay, that may sound self-serving but there are thousands of good reasons to that it is in your best interest to do so. Most significantly, professional designers know how to maximize the use of space and space in most bathrooms is at a premium. How many baths have you seen where fixtures, tubs, shower stalls, vanities, etc. are out of proportion?
One way we help control costs is to use the existing plumbing and electrical configuration if at all possible. Needing to relocate pipes, waste and supplies, vents, power lines, and so on can add to the budget. If it makes sense, then we recommend keeping as much of the existing infrastructure in place. However, there are times when the ability to maximize the space and deliver spa-like experiences that our clients (in name of service territory) crave, require reconfiguring what's behind walls and underneath the floor.
If you rely on a professional showroom or hire another party to renovate your bath, make sure that there is a detailed workscope that explains what is to be done, timelines and contractual conditions for performance and payment schedules. Never undertake a renovation project without a signed contract. Once you agree to a plan, stick to it. Budgets often are broken by changing your mind during the renovation.
Our designers know how to design a bath that plays to our clients' preferences. We had a client with an existing large jetted tub that they wanted to install in their new bath. We asked how often the tub was used and by whom? Our client responded that in the six years since they moved into their home, the tub was only used once. We politely asked our client why they would want to install a major fixture in their new master bath that they had never used in the past and likely would never use in the future. It was an "ah ha" moment for our client. Instead, they opted for a double shower with multiple showerheads and body sprays that allows for two working adults to shower at the same time as they prepare for the day. Not only was the shower more functional, it delivers a great experience every day.
Determine priorities and budgets. Avoid the temptation to be pennywise and dollar foolish when selecting faucets, because they often set the tone for the entire bath. Shower systems, soaking tubs and steam systems offer health, wellness and stress reducing benefits that our clients in Texas also have found to be investment worthy. Lighting can make or break how your new bath looks, feels and functions. Another fixture where cutting budgets is not advisable is your toilet. Our showroom professional can provide guidance where costs can be minimized and where you will receive the biggest return on your investment to allow you to create a bathroom of your dreams. Let us show you how to get the most bang from your renovation budget. Give us a call at 346-410-0755 or visit our showroom at 950 FM 1960 Rd. E., Houston, TX 77073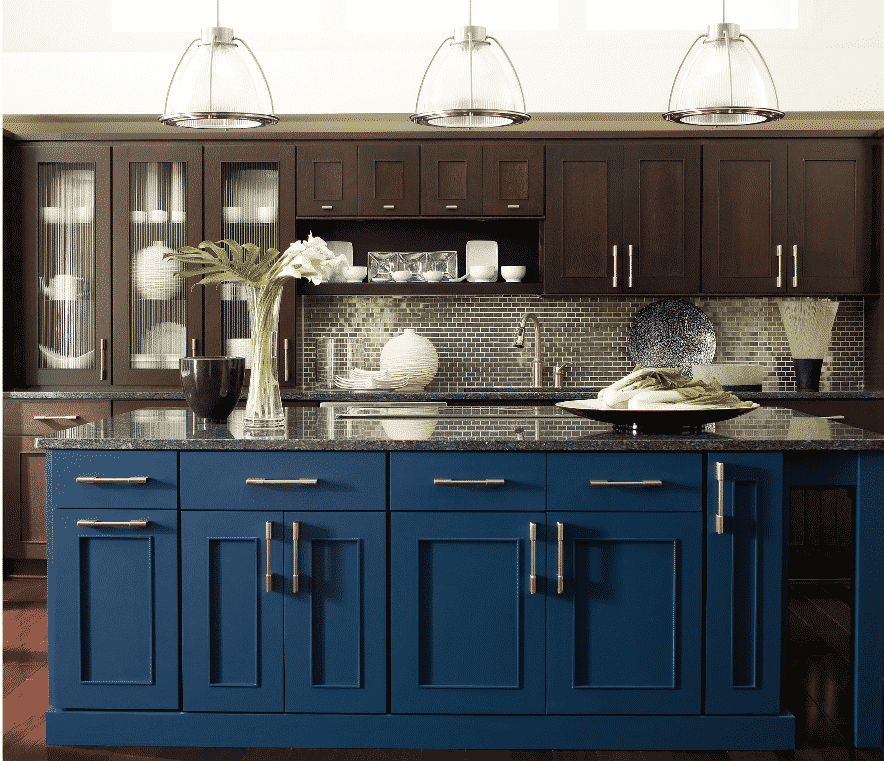 Types of Cabinets
Stock Cabinets
Stock cabinets are ready-made, pre-manufactured and ship when ordered. They almost never can be altered or customized. What you see is what you get. There also is a broad range of quality differences among stock cabinets that may not be readily apparent.
Pros:
Short to no lead times to have your cabinets delivered. Stock cabinets can be ideal solutions for homeowners who want to increase the value of a home that they plan to sell in the near future. They also are among the more budget friendly options.
Cons:
Typically, you don't have a broad selection of styles, shapes, colors, wood type or finishes. Stock cabinets may be offered in only one style of wood species, one paint/stain color and one door style. Some manufacturers offer up to five to 10 different options for door styles, colors and wood types. Stock cabinets also have limited or a predetermined number of doors and drawers depending on the manufacturer. Some stock cabinets are made with lower quality materials, e.g., engineered wood versus natural wood, and lower quality finishes, hardware and construction techniques.
Common misconception:
Large home centers typically sell stock cabinets. What is commonly misconceived about home center cabinetry is that it is less expensive than what is offered at a kitchen and bath showroom. Nothing could be further from the truth. In fact, showrooms are better positioned to offer more choices and a range of stock cabinet options that may better suit your needs because showrooms are not limited to one or two manufacturers whose cabinets that a home center stocks. Showrooms also are better equipped to explain quality differences and available options between different stock cabinet options.
Custom Cabinets
As the name suggest, custom cabinets provide a blank canvas to get whatever size, wood type, color and finish that you desire. Most custom cabinets are built to order on a project-by-project basis.
Pros:
Have it your way. Obtain the details and features to make personal design statements in your home and outfit your new kitchen to exacting requirements. Many kitchen cabinet manufacturers have standard cabinets that are fully customizable or they will create something unique for a specific space or application. Think of cabinets that rise to the ceiling or make the best use of awkward corners. Custom cabinets have almost unlimited style and finish options. You are not limited to oak or cherry. Instead you can opt for more alternative woods such as bamboo, zebra, mahogany or whatever else your heart may desire. Specialty finishes such as hand-brushed washes can be specified for custom cabinets. There is a blank canvas for door styles as well.
Cons:
Custom cabinets are labor intensive, because they are built one at a time and can take a few weeks or even a couple of months to build. Because they are built to order, they also generally cost more than semi-custom and stock cabinets.
Semi-Custom Cabinets
Semi-custom cabinets come in basic sizes similar to stock cabinets but give designers the flexibility to resize cabinet drawers and doors and modify the depth of the cabinets themselves within the manufacturer's specified restrictions
Pros:
A gentler price tag than custom cabinets accompanied by a limited ability to have your cabinets your way to meet space requirements and design preferences.
Cons:
May not provide all of the flexibility you need to meet room requirements or aesthetic preferences
Moen
Silestone
Cosentino
Top Knobs
Hardware Resources
Moen
TOTO
Signature Hardware
KOHLER
Delta
Kemper Cabinets
JSI Cabinetry
Aristokraft
Dekton Surfaces
Kitchen Cabinets
Bathroom Cabinets
Solid Surface Countertops
Faucets
Showers
Bathtubs
Drawer Knobs, Handles, & Other Hardware